First Steps Program
First Security Bank is proud to be Only in Arkansas. The quality of life for Arkansas communities is important to us, and we know that your quality of life is directly impacted by financial stability. We are committed to improving the quality of life in all communities we serve. As part of this commitment, we understand that for many, financial stability remains a distant dream. First Security Bank wants to bridge the gap between your dreams and true financial freedom.
Our First Steps Program was developed as a resource to empower you to become financially stable and take that first step toward financial stability.
At First Security Bank:
We're committed to meet your unique banking needs and supporting you as you make important life decisions.
We recognize the gaps in wealth and believe empowerment through information and opportunity are the keys to moving communities forward.
We look forward to meeting and speaking with you about your financial journey.
First Steps Radio Series
Do you have questions about your financial future? Are you looking for information to help you achieve your financial goals? Our financial literacy radio series is a quarterly call-in show airing the first Tuesday of every month during KIPR Power 92.3's "Broadway Joe Morning Show."
Andrea Lewis, First Security Bank AVP, Community Reinvestment Act Officer, joins Broadway Joe in the studio each month to discuss matters related to credit repair, money management, homeownership and more. Submit your financial questions by messaging @andrealewisatfirstsecuritybank on Instagram or using the hashtag #FirstStepsTuesday on Twitter to have your questions answered on air! You can also submit your questions to firststeps@fsbank.com or by using our online form.
First steps virtual workshops
Our First Steps Financial Literacy Workshops are comprehensive sessions that discuss topics we know matter to every family. These interactive workshops feature First Security Bank loan originators and community outreach officers prepared to answer your financial questions. We'll discuss important money matters like credit score management, a guided path to homeownership, the importance of saving and how to build personal wealth. After tuning in to First Steps Tuesday with Andrea on Power 92 Jams, be sure to attend a workshop!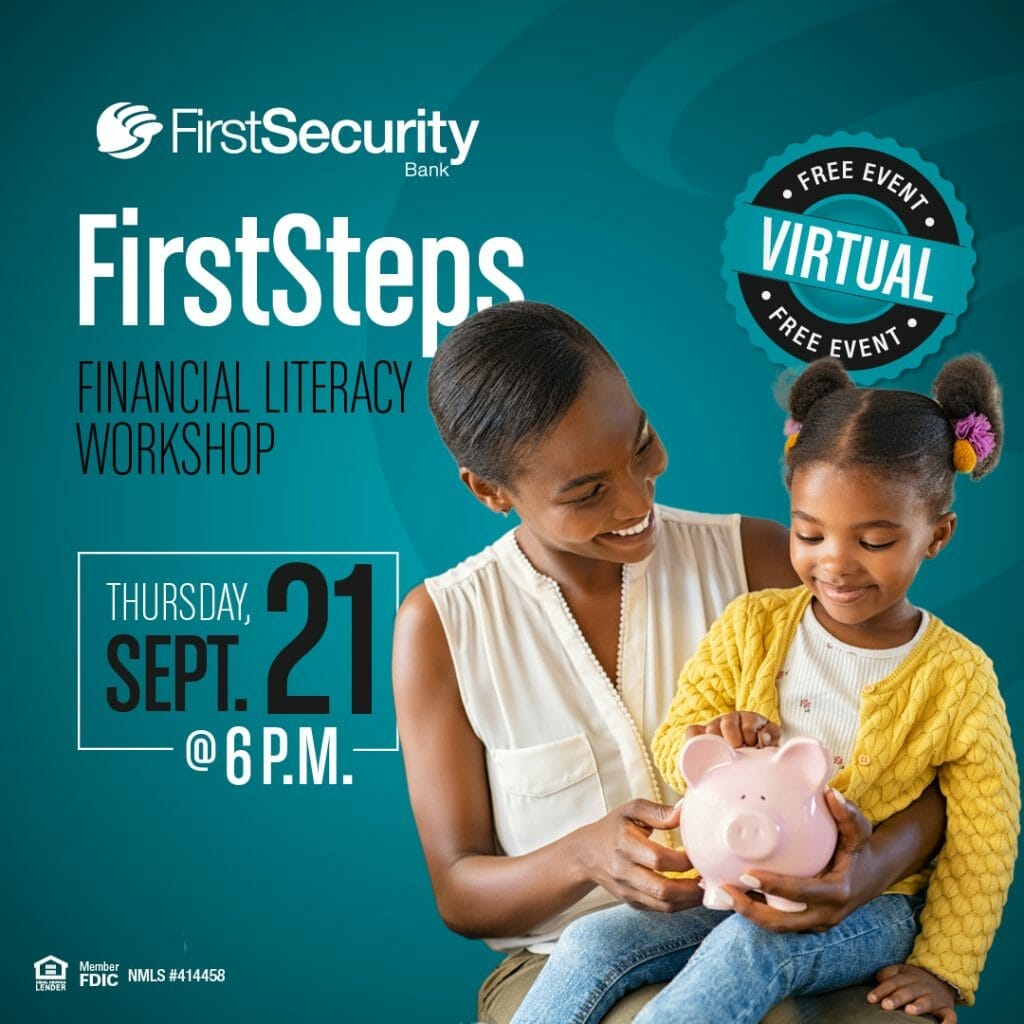 Next Workshop: September 21st with Andrea Lewis – Financial Literacy
The First Security Bank team is back. We're giving you relevant and useful information about how to improve your credit and increase your purchasing power. Join our virtual First Steps Financial Literacy Workshop on Thursday, September 21, at 6 p.m. to get the tools you need to take the First Steps toward financial freedom and becoming a homeowner!
This virtual event is still FREE, but we ask that you register to let us know you're coming.  Click here to register!
2023 First Steps Workshop Schedule:
November 9th with Ricky Williams – Homebuying
All First Steps Financial Literacy Workshops are open to the public. No purchase necessary. You do not have to be a customer to join.
*The information provided during this programming is for informational purposes only. It is not a replacement for the guidance or advice of an accountant, certified financial advisor, or otherwise qualified professional.