Find More Blog Posts
Architecture
I loved going to visit my grandparents in Dallas. They lived on a street where everyone knew everyone. We took after-dinner walks and strolled beneath tall trees that only exist in older, established neighborhoods. At the end of the road was a large house that stood out from the other long, low ranch homes. This house was large, with a circular driveway, grand columns, white stucco, and a cheerful red-tiled roof. There were window boxes spilling over with flowers, a stone water fountain tucked into lush greenery, and black ironwork on a romantic balcony fit for Juliet. That home seemed so romantic to me, and while it was nothing like the slightly spooky Victorian house of my dreams, it definitely ranked high on my list of favorite childhood homes.
This home was, of course, a perfect example of Mediterranean Revival architecture. I still have a special place in my heart for this style, specifically because it reminds me of my grandparents' street. But as I've lived in various places, I've learned that these houses aren't relegated to just warm-weather states like Florida, Texas, and California. This home style exists all across the United States. So, what led to this influx of Mediterranean-style homes in historic neighborhoods across the country? The answer lies in the luxe and lavish period of the roaring 1920s.
The years that led up to the Great Depression were filled with wealth, over-the-top lifestyles, and travel. Fashion was defined by sequins, feathers, dashing hats, and shrinking hemlines. Excess, dancing and drinking (despite prohibition) were part of everyday life for the first time in society's memory. This generation was a far cry from the ones before, with dresses that covered ankles and fusty gentleman's clubs. The 1920s was the age of "The Great Gatsby." Expatriates and artists spent time in Europe, and society switched from horses to automobiles.
And while these fast and fancy people of means were racing through life, they were vacationing. They were lounging in the sun somewhere in the Greek Isles. They were drinking on a beach in Spain. And when they came home, they decided they wanted to live that vacation life all year long. Why shouldn't they have a home that mimicked their favorite resorts and retreats? This global travel, excess of money, and a new appreciation for warm-climate-living led to an explosion of what we now call Mediterranean Revival homes. Homebuyers flocked to the creations of famous architects such as Addison Mizner and Bertram Goodhue.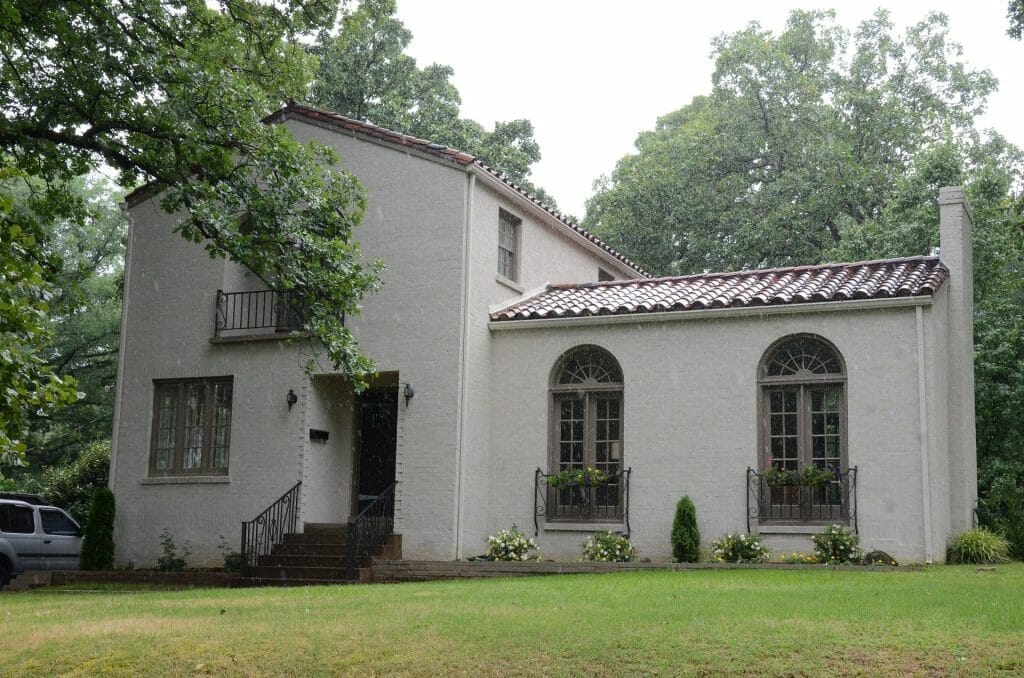 Mediterranean Revival homes have several defining features. These usually include clay roof tiles, expansive outdoor living spaces, archways, wrought iron accents, balconies, stucco walls and colorful tilework. Many of these influences came from Spanish and Mexican homes. But other details, such as Italian-style arches and columns, as well as Moroccan influences through bold and colorful tilework, culminate in what we now know as Mediterranean Revival. Other architectural styles that contribute to this style are Spanish Colonial, Italian Renaissance and Mission Revival.
Today, in a quest for modernity and all things white, these homes are not always treated with the historical reverence they deserve. Last month I saw a Mediterranean historic house for sale, listed as a "fixer-upper." As I clicked through the listing photos I couldn't help but cringe when considering that a new buyer might alter the beautiful original tile or strip out well-crafted ironwork in favor of something sleek and modern. Mediterranean Revival homes are unique and built with quality and attention to detail that cannot be found in today's homes. If you're lucky enough to stroll down your grandparents' street and see one, stop and admire it. If you're lucky enough to live in one, please be a thoughtful steward and caretaker. And above all, remember to pay homage to those hard-partying 20s ancestors, and have a cocktail on the veranda.