Find More Blog Posts
Architecture
When it comes to Victorian Architecture, there is one particular Queen Anne house that eclipses all other Victorian houses. The irony? It isn't even a real house.
For any house lover who saw Practical Magic in 1998, our minds were permanently blown. It was the apex of Victorian dreams, a giant white sprawling home, a widow's walk, turret, witchy vibes and curving staircases. Situated above the ocean, this magnificent movie house had a yard covered in herbs, vegetables and roses. The kitchen was the stuff of dreams, with French doors opening into a greenhouse filled with plants. My father, ever the pragmatist, watched the movie with me and commented on its four-story tower. Reggie said, "They better get some lighting rods. That's way up in the air." But even with the threat of lightning bolts with every thunderstorm, I would happily risk scorching to live there.
In reality, there was no such house. It was merely a "shell house" built by architecture firm Roman and Williams, and according to them, Barbara Streisand called to inquire about purchasing it. She, like the rest of us, was sorely disappointed. The house shell was dismantled once filming was over, and the interiors of the home were stage sets, and also dismantled once filming wrapped. But for those of us who fell in love with it, the Practical Magic house felt very real indeed. And for anyone who loved Victorians before that movie, the witchy cinematic experience sealed all of our love affairs with this particular historic architecture.
The term "Victorian Architecture" is actually a tremendously broad style, covering architecture styles from Queen Victoria's reign in Britain (1837 – 1901). These "styles" involved everything from Greek Revival to the popular Queen Anne style, but for the purposes of this article, we'll be focusing on the latter as it was most common here in the United States.
When it came to Victorian houses, these abodes invented the concept of Maximalism. They were defined by details, details, and more details. More was more. Clutter and eccentricities defined these homes with intricate wood paneling, stained glass windows, ornate fireplaces, and walls covered in tapestries or busy wallpapers. Their exteriors were defined by wrap-around porches, gables, gingerbread and spindles, oversized chimneys, and complex roof design. Queen Anne Victorians often possessed a "maze-like" floor plan and rooms that led to other rooms. For example, you might have to walk through the parlor, and then through a dining room, and then through a swinging door to find the kitchen.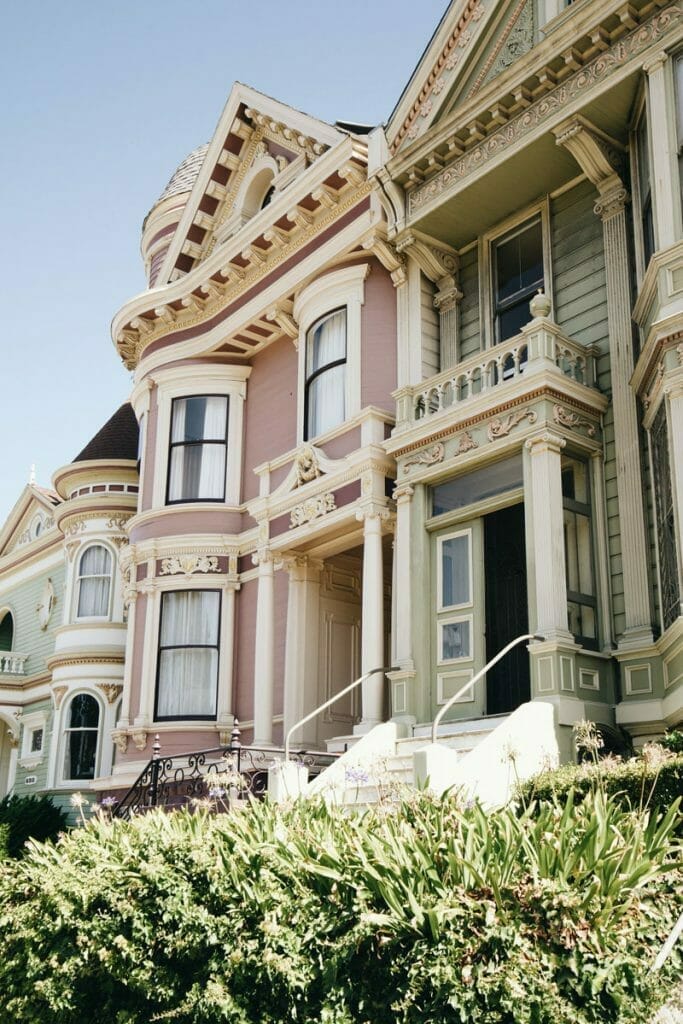 Some of the most famous Queen Anne houses make up the "Painted Ladies" historical row in San Francisco. Painted in at least three colors, these houses earned their label and defined the colorful term for Queen Anne homes, and hues, which resulted in a rainbow effect of reds, yellows, blues, pinks and oranges.
The Carson Mansion is another famous Victorian. Located in Eureka, California, it was constructed in a curious mix of styles that include Eastlake, Queen Anne, and Stick. Built by lumber baron William Carson, he is quoted as having said, "If I build it poorly, they will say I am a damned miser; if I build it expensively, they will say I'm a show-off; guess I'll just build it to suit myself." And suit himself he did, as the Carson Mansion lives on in history as one of the most famous Victorian homes in the United States.
The magic of Queen Anne Victorians is still with us, whether in San Francisco or the Deep South. Eclectic and eccentric, Victorian homes have a place in all our hearts. Whether drooling over magical movie houses or strolling down a sidewalk and admiring the real Queen Anne homes here in Arkansas, Victorian architecture will always inspire creativity and unique home aspirations.
For examples of Victorian Architecture in Arkansas, read Cozy Corners: Home of One of Arkansas's First Female Physicians and Home Sweet Southern Home: Historic Houses of Arkansas on OnlyInArk.com.
Cover photo of the Empress of Little Rock courtesy of Arkansas Parks and Tourism.