Find More Blog Posts
Decorating
Home Improvement
My name is Liz, and I have a confession. I hoard rugs.
Some people hoard clothes, or shoes or makeup or power tools. I hoard rugs. To be fair, right now I only have three spare rugs in my garage (four if you count the purple kilim runner that's stored with my table linens). But there have been times there were more. And yes, I realize this is a problem. But the thing is, they are just so darn pretty.
Rugs are basically functional artwork for our floors, and they have been around a long time. Rugs date back about 5,000 years to nomadic tribes in Asia who had sheep, cold tent floors and a lot of ingenuity. People have been decorating their floors ever since. In the 17th century, people drew designs in the sand on their floors. Painted wood floors were the poor man's solution to imitating rugs. Luckily, these days, rugs are available with the push of an internet button and come in all price points. But before buying a rug, it's a good idea to know three basic facts. 
What Size Rug Do You Need?
If I could give one main piece of advice, it would be this; do not skimp on rug size. Rooms with too-small rugs always look like someone wearing a hat that's too small for their head. For example, in your dining room you ideally need 18 to 24 inches on each side of your table, so guests don't back up their chairs off the rug when sitting or standing. If you're putting a rug under your bed, it should extend on all sides by at least a foot. Lots of retailers provide pages on their websites to help you determine rug size, and it's a valuable use of time to make sure your room doesn't end up with teeny-rug syndrome.
What Type of Rug do You Want/Need?
Rugs are made with a variety of fibers, and you'll need to know which one suits your needs. Is it a high-traffic room? Are you on a budget? Are you looking for a lifetime investment? Here are a few facts to know.
Wool rugs are incredibly resistant to stains, dust, and are even flame resistant (or as flame resistant as is reasonable to expect of something still flammable). Wool is also highly insulating, making this an excellent choice for keeping your feet warm in the cooler months. These rugs can be pricier, and also go through an initial period of shedding.
Cotton rugs are the most affordable and down to earth rug option. These hearken back to the days of farmhouse living and taking your rugs outside to hang on the clothesline to (lovingly, of course) beat with a broom when needed. These budget friendly rugs don't repel stains as well as others, and they aren't pieces that you'll likely pass down to your grandchildren, but they're a great choice for casual living.
Jute rugs are another less expensive option, and a great way to add texture and a beachy feeling to any room. Do you have a smaller colorful rug that's not quite big enough for your space? You can easily layer it on top of a larger jute rug. However, in my experience, they don't clean easily, and when you vacuum be sure and use the lowest setting possible (for bare wood floors) or else you get a lot of shedding.
Silk rugs are the royalty amid the rabble, with a beautiful shiny soft texture, and likely the highest price point. These rugs are beautiful and delicate, but also need to be placed in a low traffic area like a bedroom.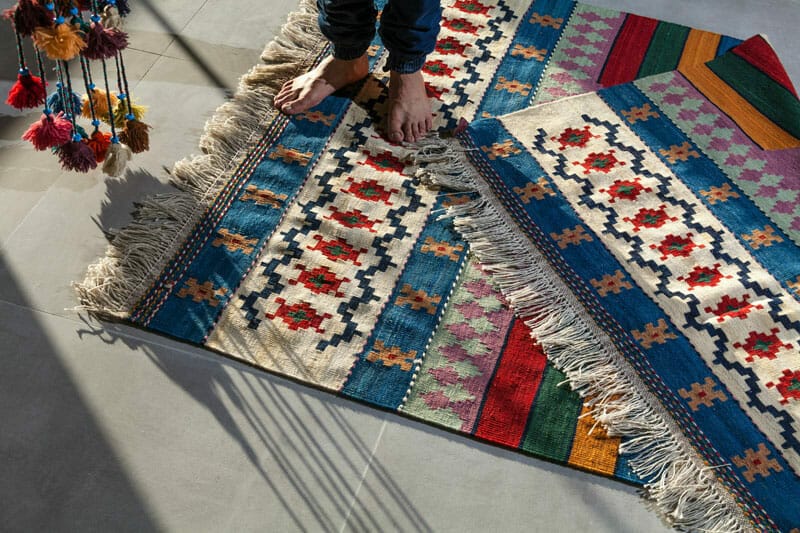 Synthetic rugs are my favorite. Affordable, hardworking, brightly colored and easily available, these are the most common rug choice for those of us with a budget, kids, pets, or any variation of those three. These rugs are thinner than wool, and not nearly as high end as silk, but can still be soft. They're fade resistant, hold up under high traffic, and are usually affordable enough that you won't be married to them for decades if they fall out of style or you just get tired of them. They're easy to clean, and in the past, I've even taken one outside and hosed it off. However, these rugs aren't the most environmentally friendly. It takes them much longer to break down in a landfill once thrown away, so be judicious about getting rid of these.
Where Can You Find Your Rug?
Some retail options (albeit pricy) are Pottery Barn, West Elm, Serena and Lily, Anthropologie, and Restoration Hardware. These shops offer high-quality rugs with beautiful colors and patterns.
Other "big box" options are Wayfair, Target, Overstock, and Rugs USA. These stores generally sell synthetic rugs, which keeps their prices down while still offering beautiful options.
Buying online can be much less expensive, but beware. Photos don't always match up with what USPS delivers to your front porch. For example, I've ordered a couple of rugs that clearly advertised as having red details in their patterns. Low and behold, that red on the computer screen was a hot pink shade in real life. My best advice? Read the comments. Oftentimes if the colors are darker, lighter, or not true to the photos, there are some saints out there who took the time to leave comments to warn or inform the rest of us.
And then there's my favorite kind of rug shopping option: veering off the beaten path. This kind of rug hunt includes antique shops, thrift stores, eBay and Etsy. These are the places where you can find the true "one of a kind" rugs, some antiques, some not. But buying a rug from these places will almost guarantee that no one else will have one like it. One of my favorite rug finds of all time (which is currently in my garage waiting on a trip to the cleaners) is an antique hooked rug found at a thrift store for $15.
At the end of the day, buying a rug is very much like buying artwork. It's important to know what kind of rug you prefer, the size you need, and then decorate your floor. After all, the floor is just another wall that deserves decorating, even if it is one that we walk on.