Find More Blog Posts
Buying and Selling
Homeownership
In the midst of a housing market boom and a building supply shortage, those looking for a new home might be wondering what to do. Buying a home in many areas is becoming difficult as buyers compete with each other. The Covid-19 pandemic has caused a shortage of building materials across the construction industry, most notably in lumber and steel, which has also driven up the cost of building a new home. If you're trying to decide whether to buy a new home or build one in 2022 and beyond, here are the pros and cons of each decision.
Buying Your Home
Move-in Ready
The biggest benefit to buying a house is your home is likely to be move-in ready much sooner than if you build one. If you're moving into the area and you need a home right away, buying is probably the right decision. Though a home search with a realtor, loan approval, and closing on your home will take time, it will be much faster than designing your own home and obtaining a contractor to build it. If you obtain pre-approval for your loan, it will help you know exactly what your budget is and focus on the houses that fit your needs and your finances.
Seller's Market
The median home price in the south in 2020 was $270,000. It was also a seller's market in 2020 and that trend continued through 2021. Expect other homebuyers to place competing offers on any move-in-ready homes you're interested in purchasing. This may make getting the "perfect" home a little difficult. With the home-buying market moving so quickly, you won't have time to decide whether you really need an extra bathroom or if you can tolerate a less-than-ideal floor plan. You'll need to be flexible in your expectations and adapt to what is available as new homes arrive on the market while keeping in mind that these homes won't last long.
Of course, remodeling an older home is also an option if you choose to buy over building a new home. Remodeling will raise the cost of your home (and your loan). But it will likely still be faster to remodel portions of the home over building a new house. If you choose to remodel, locate a contractor quickly for a cost estimate and timeline for the modifications. With the materials shortage, it might be longer than you think to get those much-needed updates. You'll either need to be comfortable with a delayed timeline or rethink your options on remodeling an older home. It may be enough for you to walk away and search for a different home.
That Neighborhood Vibe
Another benefit to purchasing an existing home can be the neighborhood and businesses around it. Existing homes already have landscaping in place, often with mature trees, established roads and schools and businesses nearby. If living near a certain area of town is important, it's likely easier to buy within this area than build. You'll also skip the hassle of dealing with service contractors needed to build a new home.
Bottom line on buying your home
Buying an existing home offers convenience, saves time and allows you to move in quickly. However, you may incur additional costs to update your home to your liking.
Building Your Home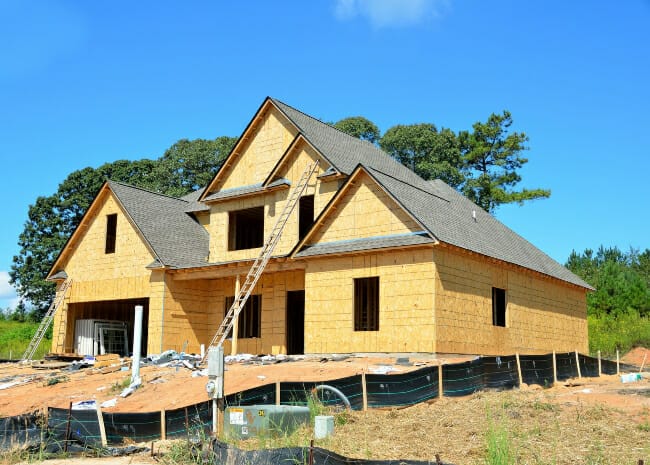 It may be every homebuyer's dream to build their own home. If you're trying to decide between building or purchasing a house, there are a few things to consider. The most obvious is possibly holding two mortgages, or at least managing two homes, at the same time. You'll need somewhere to live while your dream house is being built, whether it's an existing home or rental. Don't forget to factor in that cost before you begin the process of building a home.
The idea of building a house to your specifications down to that special reading nook, craft corner or game room is appealing. Initially, the cost of building a home might look comparable to buying one. However, potential homebuilders should be aware of what is and isn't included in the cost. While the median cost of buying a home in 2020 was $270,000, the cost of building ran about $113 per square foot.
When you're building your home, you're starting from scratch, so all costs should be figured into the total price of your home. First, you'll need to find a lot to build on, which isn't factored into the price of the home. Finding lots right in town will be difficult unless you're able to buy an older home and demolish the existing structure. You may end up farther from some amenities than you like, but lots farther from town should come down in price as well. Once you've purchased your lot, you'll need an architect to draw up your plans and help estimate the total cost of the home. You'll also pay fees for land inspection, a building permit and an impact fee, which covers the cost of what a local government needs to provide infrastructure (roads, schools, water, etc.)
The Work Before the Build
Next, you'll begin foundation work, which is a larger cost than homebuilders might realize. Excavation can lead to some surprises, like large rocks or bad soil. Be prepared to be flexible on the cost. Once the foundation is laid, the house can be built according to the architect's (and your) plans and should run along projected costs, as long as you don't give in to the temptation to upgrade along the way. Prospective homebuilders should be aware that kitchens and bathrooms are the most expensive rooms to build and outfit and take that into consideration when making your home plans.
Landscaping is sometimes a secondary consideration when building a home, but it's important to keep in mind that a new home will have to start over with sod, trees and other landscaping. You need to factor these costs into your home-building plan or be comfortable with finishing your landscaping a step at a time.
That New Home Feeling
Once you're in your new home, though, the benefits are many. All new appliances and the latest building materials are generally far more energy efficient than older homes. You'll also benefit from warranties on many of your new appliances. Many builders also include warranties if major structural problems should arise in the first year or two.
Perhaps the biggest benefit of building your own home comes down to you. It may not be cheaper to build your home, but you are likely to get exactly what you want and live where you want to, which can be worth the cost of the build.
One final consideration when building a new home is how your home will appreciate in value or attract buyers if you decide to sell. While it seems strange to think of selling your home just as you're beginning to build it, considering what future buyers might like, and might not, is important if you think you might sell your home eventually.
Bottom line on building your home
Building your home might look cheaper, but watch out for hidden costs not included in the price of the build. Stay within your budget when facing decisions like upgrading cabinets, fixtures and other decisions to avoid runaway costs, but also don't be afraid to splurge a little on what you really want. After all, you may only build once.
Is 2022 the right year to buy a new home or build one? Much of this decision rests with your individual situation. The construction market is currently in the midst of some pandemic-induced shortages of building materials. This could affect the price of building a home, but if you're willing to wait a few months to begin work, prices may drop again. The cost of buying a home has also risen recently as some builders have slowed construction during the pandemic. Still, finding a home that fits your needs and finances, whether it's a new home or an older one, is the most important consideration.
When you're ready to talk about how to finance your home, visit us at https://fsbmortgageloan.com/ for more information on how to get started on the loan process and the best way to find the home that is right for you.