Find More Blog Posts
Decorating
Homeownership
Pre-Pandemic life is sometimes hard to fathom. We had dinners and hugged our guests at the front door. We went bowling and didn't think twice about the germs residing inside the bowling bowl finger grips. And we went out the front door every morning, on schedule, faced commutes, and never thought to grab a spare mask.
Post-Pandemic life has changed all of us, and one of the biggest ways is how we work. For many, store hours are altered. Masks are part of a new dress code. And for others, office buildings closed down completely, and everyone was sent home with a laptop and a new reality: working from home. The home office has since taken on a whole new level of importance.
Working from home has some perks. Most of us have foregone "office pants" for many months (and find the idea of wearing them again slightly disconcerting). We've ditched the commute (and the gas bill). We've taken lunch breaks in our own kitchens and avoided the break-room gossip. And while most of us don't have an extra room to commandeer in the name of work, we've all had to carve out a workspace at home, and sometimes that takes thinking outside the box. The key to a happy "work from home life" is making your space work for your lifestyle, whether you have a designated office room or not. Here are a few things to consider when carving out your own home office:
Make it Child Friendly
Last year so many of us found ourselves juggling work and children under the same roof, at the same time, without outside help. Work-life has certainly had to adjust. From standing desks to floor desks, there are multiple ways to create a child-friendly way to work, while simultaneously holding children (or making sure they aren't lighting the house on fire). I often find myself working at the bar above my kitchen sink. It's the perfect height for my laptop, a cup of tea, working/standing earns me points on my apple watch, and I'm able to oversee a toddler who fancies himself a miniature wrestler.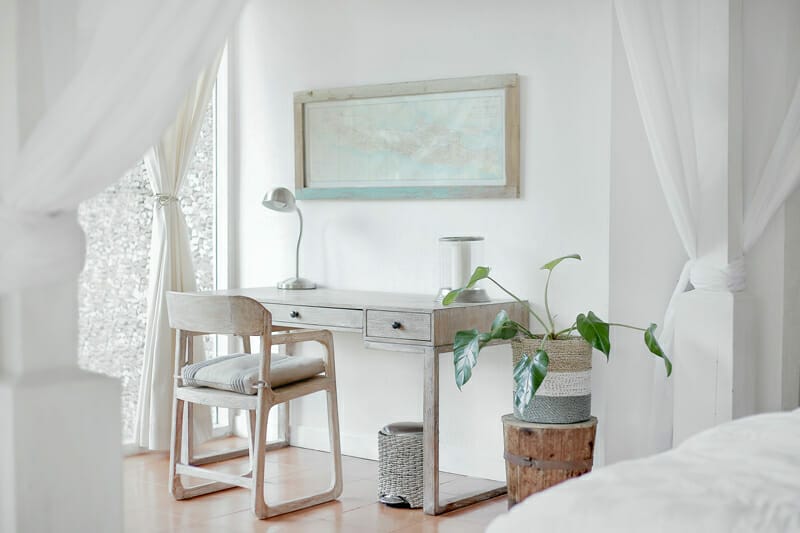 Find a Bedroom Corner
If you're struggling with not having a designated room for work, consider commandeering a corner of the master or guest bedroom. These rooms are usually quiet and less cluttered than other rooms of the house. 
Consider the Kitchen
The kitchen has become work-central for many apartment and small home dwellers. Whether you're taking over the breakfast nook, or adding in a small table in the corner, there's always the upside of being in close vicinity to coffee, tea, and snacks.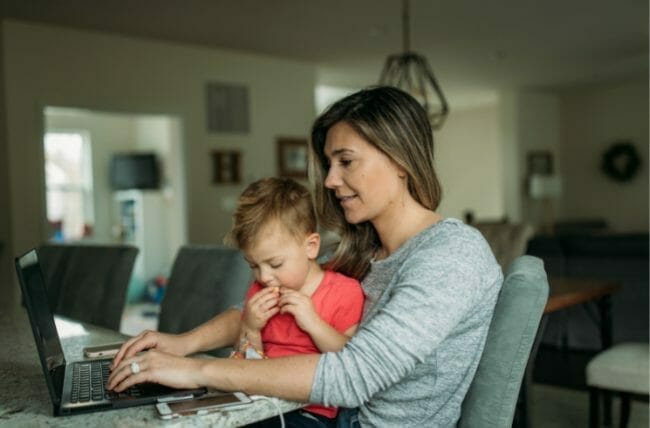 Take Over the Dining Room
The formal dining room is an easily flexible space, and that makes it an easy decision when carving our room for a home office. You can set up shop at the existing table, or completely transform the room into a legitimate office. Either way, dining rooms are often unused and untapped square footage that can make for a perfect home office.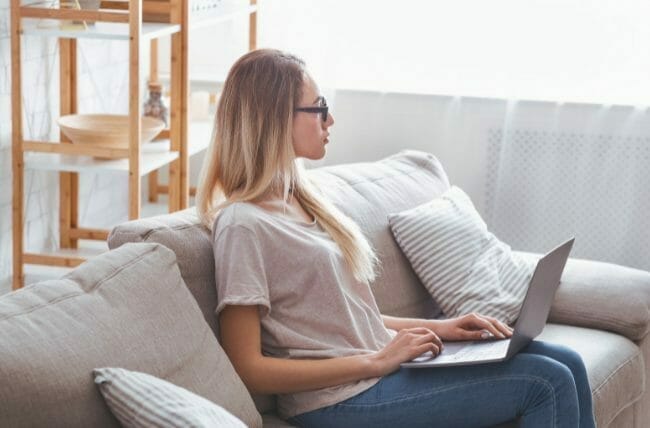 Surf the couch
No kids at home? Are you a laid-back person who doesn't care for sitting at a desk? Only need your laptop and no other office supplies? The living room or den couch could be your new best friend. Just resist the temptation to turn on the TV. Kick back with your feet up on an ottoman, and your workday just took on a whole new relaxed meaning.
Work Near a Window
This has been an important one for me. No matter what room I'm in, I need to be near natural light with the ability to hear birds and breathe fresh air. Being near a window helps me stay focused and feel less claustrophobic throughout the workday.
If You Can, Get Outside
While not an everyday solution, it's definitely a perk. How often did you tell your boss, "I'm going to work outside for the rest of the afternoon" when you were working in the office? Working outside is absolutely something you should take advantage of when the weather allows it. A patio table and chairs, or even a folding chair, are mood-lifting locations if it's a beautiful day.
Make Your Space Personal
Whether you have a desk in the corner of your bedroom, a workstation set up in your dining room, or a designated home office, it's important to make your space cheerful. Add a photo of your family, your favorite candle, or a special memento from vacation, just like at work. I strongly believe that if you're going to be stuck in one place working for eight to nine hours a day, it should be as pleasant as possible. So surround yourself with reminders of the things that make you happy. And until life returns to a more normal post-pandemic pace, enjoy your work-from-home gig while it lasts.