Find More Blog Posts
Decorating
Home Improvement
I've always wanted to be a writer, but my second-place trophy dream went to the field of interior design. I was initially an interior design major, and as I waded into the world of fabric swatches and room measurements, I quickly realized I was in the wrong field. It wasn't that I didn't adore everything house-related, but I knew it wouldn't work. I turned back to writing, not because I thought it would be more lucrative (cue laughter from all English majors everywhere), but because I knew I wouldn't be able to set my personal preferences aside and design solely for a client.
My problem, I quickly realized, was that I loved color. I loved color too much. Color is my favorite. I knew that if I had a client say, "I like minimalism and neutrals," I would swoon backward in my chair and resign immediately. And that's not because minimalism or neutrals are bad (on the contrary, I think they're amazing). They're just not my wheelhouse, and I knew very early on they never would be. 
My design preference is more, brighter and bolder. While the "go-to" for household color always seems to be painting an entire room, I submit there are far more creative and fulfilling ways to add bursts of color into your home.
Murals
My sister, an artist, just finished painting a mural in her stairwell, and it has inspired me. It's such an exciting and unique way to add an abundance of color into your home (or on the outside if you're feeling brave or live in an urban area where street art is more common). If painting isn't your forte, consider hiring an artist. There are also incredible wallpaper murals that give you the whimsical, colorful feel of a real mural, but with far quicker and easier applications.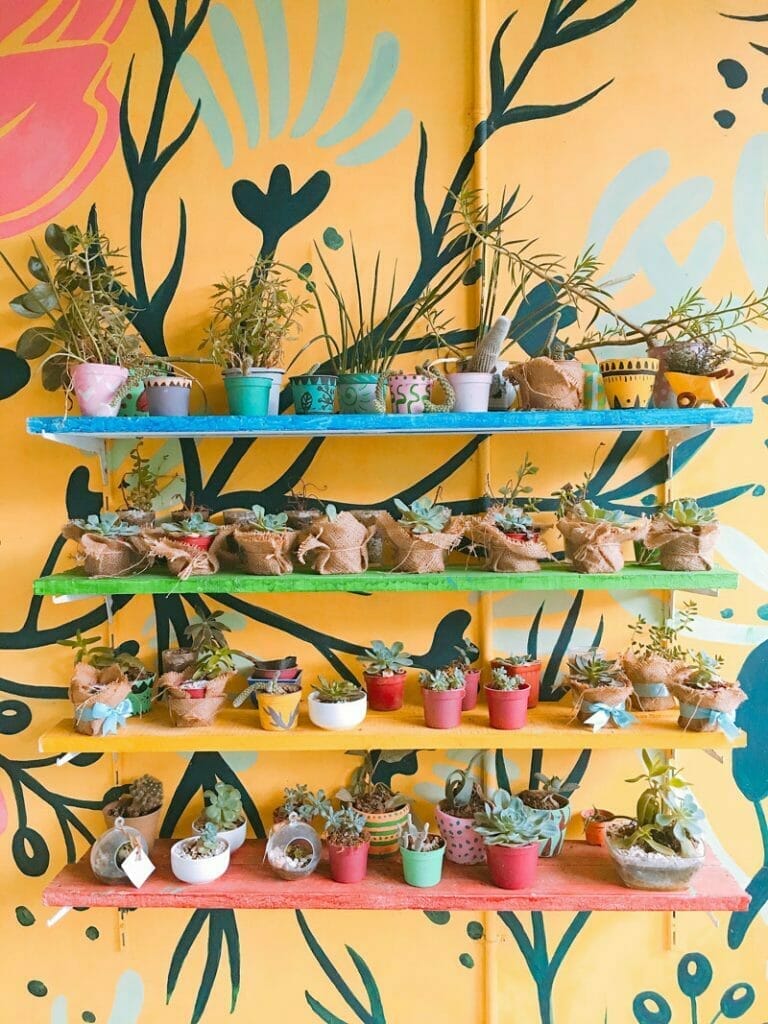 Plants
Nothing adds life or color to a room like plants. If you have the blackest of black thumbs, there are some really realistic fake plants as well. "Jungalow style" is a fascinating hashtag to search for on Instagram, and there's an entire decor movement centered around an abundance of color, pattern and plants in a home. 
Art
My mother is an artist, so I grew up in a home where every wall was covered in framed, colorful art. This is hands-down my favorite way to add bold color into a design scheme. Whether you collect brightly colored pieces from antique malls or flea markets over time, or you nab a giant statement piece that dominates an entire wall, artwork will always be the most interesting way to add color to your home.
Furniture
As Christopher Lowell once wisely said, "Just because it's wood doesn't mean it's good." To paint or not to paint that gorgeous piece of flea market furniture polarizes people into two camps. Over the years, I've slowly shifted from "paint it all" to "maybe just paint some of it." Either way, a bright green china cabinet or a red-painted dining room bench are cheerful and quirky ways to bring color into your home.
Accent Wall
Accent walls seem to come and go in terms of what's "in," but in the right setting, they're always right. An entire dining room painted emerald green might seem oppressive, but one wall painted a dark bold color can add just the right element of drama.
Collections
I am a self-professed magpie when it comes to collecting, so my advice on this topic should only be seriously considered if you are a fellow maximalist. Colorful tins, turquoise pottery, blue and white china: these kinds of collections displayed on open shelving or with glass front doors are guaranteed to perk up the color level in your home.
Fabric
Curtains, rugs, and upholstery can create a pleasing and colorful home almost instantaneously. A purple overdyed rug will transform a dining room. Pillows upholstered in your favorite print can take a living room from plain to interesting in a few minutes. A bold blue sofa can liven up the most neutral of rooms. Never underestimate how quickly and easily fabric can transform your home. 
Colorful Trim
We usually think only about painting the walls, or maybe the ceiling, but trim is almost always the standard bright white. But why not change it up? Paint your walls a bold white and the trim a dark gray or a beautiful jewel tone. 
Stairs
Staircases are often a forgotten color opportunity. Wallpaper or stencil colorful patterns on stair treads. Paint spindles in a dark contrasting color, or create a "light to dark" ombre effect using various shades of blue (or whatever color floats your boat). But don't be afraid to add color to your stairs in a creative way.
Decorating with color has been the second greatest hobby in my life, second only to writing. But what are the best ways to add color to your home? When should we pump the brakes? I submit never, unless you're planning to put your home up for sale. Don't be afraid to paint a console or hang some yellow curtains. If you love a colorful home, life is too short for neutrals.