Find More Blog Posts
Decorating
Home Improvement
When we consider the hardest working room in our home, most of us would declare our kitchens the winner. However, the bathroom comes in at a close second. I submit that my bathroom and kitchen are tied for hard-working awards because when I became a parent, my bathroom became an unexpected refuge. It became the room where I could apply a soothing face mask and forget the spaghetti incident at dinner (where the hard-working kitchen cabinets were splattered by my son's freakishly strong baby arm muscles). It became the room where I could run the shower and ignore the small fingers scraping underneath the door while voices called out, "MOM WHAT ARE YOU DOING IN THERE."
The bathroom has become my mom-zone. It's where I store my bath salts and face potions. And because it is a room that provides me with a lot of non-child sanctuary throughout the course of the week, I take good care of it.  I decorate it. I clean it. I'm also constantly on the lookout for bathroom decor and design inspiration. These are a few of the consistent bathroom trends I'm seeing lately on my favorite Instagram and social media feeds. 

Colorful Tilework
Tiles in bright blue and turquoise are my favorite features in a bathroom, and a current décor trend. This trend is a departure from the classic white tiles, but still manages to keep a foot in the traditional camp with soothing spa-like shades of nature.
Marble Dupes
Marble has been the go-to in classy bathroom (and kitchen) surfaces for years. But the price of marble, along with its delicate inability to withstand the ever-handy bleach bathroom sprays, make it a surface that needs a bit more babysitting (and bank account emptying) than most of us are comfortable with. Quartz is always an easy replacement stone, but there are also porcelain tiles that imitate the beauty of marble but allow you to spray bleach about your bathroom with cleaning abandon.
Bold Wallpaper
The latest trend in bathrooms is bright, bold wallpaper. Moisture-resistant brands make this an even easier choice, with less chance of peeling edges.
Fancy Tub Time
Bathtubs are a centerpiece of current new builds and remodels. New free-standing tubs are more streamlined, take up a little less space, but still offer a place to wash your cares away. And maybe submerge your head when you hear your child yelling from the other side of the door "HEY MOM, I ate the strawberries with the white fuzzy stuff on them, was that ok?"
Bringing Back Retro
Not only is there a current push to save retro bathrooms, but lately designers are incorporating coordinated color sinks and bathtubs, creating a feeling of Mad Men nostalgia in modern bathroom design.
Spa Mood
This is a trend that can be tapped into by anyone, anywhere, whether you have a brand-new bathroom, or one still sporting 70's shag carpeting (although for the love, please rip that biology-filled substance out of your home). Bamboo shelves for your bathtub, eucalyptus hanging from the showerhead, baskets filled with Epsom salts and bath gels; this is an easily attainable (and mental health-friendly) trend.
Warmer Wood Tones
Warm wood textures in vanities and mirror frames are becoming a mainstay in bathroom design. It's a welcome texture that can break up the usual cold tile and marble surfaces of a bathroom.
Bold Pattern Tiles
High contrast black and white pattern tiles, often with Moroccan and Middle Eastern Designs, are everywhere lately. These choices are readily available, not just for designers with high-end tile access, and can be found on the aisles of Home Depot and Lowe's.
Take a Seat
This is another bathroom trend I've found myself applauding. Small bamboo stools are a place to take a rest, relax under the hot water, and try to forget the worries of the day (or the mess in your kids' rooms).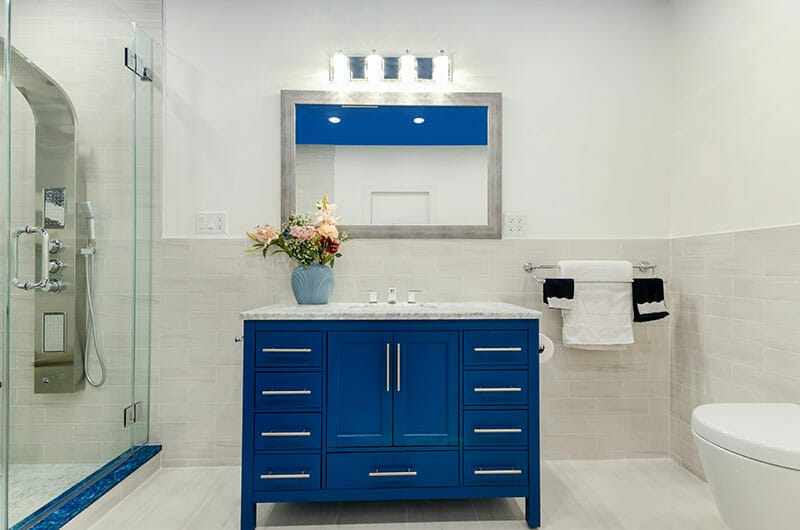 Bold Vanities
Bold paint colors in vanities are definitely a current trend and a departure from the usual white paint used in most bathrooms. It's a chance to add bold color to your bathroom without investing in major and costly choices like flooring and wall tiles. Easily changeable, it's an affordable way to add some color excitement to your bathroom. But one thing to remember when considering bathroom trends and design, one paramount truth, is that your bathroom doesn't have to be renovated. It doesn't have to sport the newest and trendiest features. You don't really need a rain shower head (although they are blissfully nice). You really only need cleaning supplies, bath salts, and a sturdy door lock to keep your children out of your mom (or dad) domain.
Check out my article on kitchen trends here.