Find More Blog Posts
Homeownership
In the past decade, all-white kitchens and stainless-steel appliances have reigned supreme. And while some fads do come and go (think avocado-hued refrigerators and the everything-that-is-standing-still-gets-wallpapered trends of the '70s and '80s), some kitchens are timeless. A few years ago I was lucky enough to tour The Breakers in Newport, Rhode Island. The home is more than a mansion, it's a veritable castle. But the Gilded Age kitchen is the main showstopper (at least in my book).
It has original white subway tiles on all the walls and a zinc topped work island that spans the length of the room (zinc was the predecessor of stainless steel). Dozens of copper pots and pans hang from a metal structure suspended from the two-story ceiling that gives new meaning to the words "pot rack." A 21-foot-long cast iron range stretches the length of the room, and large windows flood the entire room with natural light. It's a kitchen that continues to stand the test of time in terms of being "trendless."
But when it comes to trends, everything old is new again, and vice versa. Time never truly stands still when it comes to decor, fashion, or art. And while timeless choices will always be considered the right choices, new and innovative ways of decorating are the exciting parts of owning a home. The word "trend" can be a bit of a curse word when we think about the shag rug horrors of the past. But while I will always adore timeless kitchens like the one at The Breakers, I also subscribe to the "it's your home it should make you happy" theory. The current kitchen trends are moving away from the traditional all-white buttoned-up look. Color, texture, and making things a bit less "built-in" are on the upswing. The following kitchen trends are shifting the status quo for Spring 2021.
Contrasting Cabinetry
Contrasting lower and upper cabinets are a new and fresh look that defy the uniform-cabinetry of the past. Lower cabinets are sometimes stained, as seen here, and other times painted a darker color, while the uppers remain white. It's a twist on traditional, while still remaining timeless.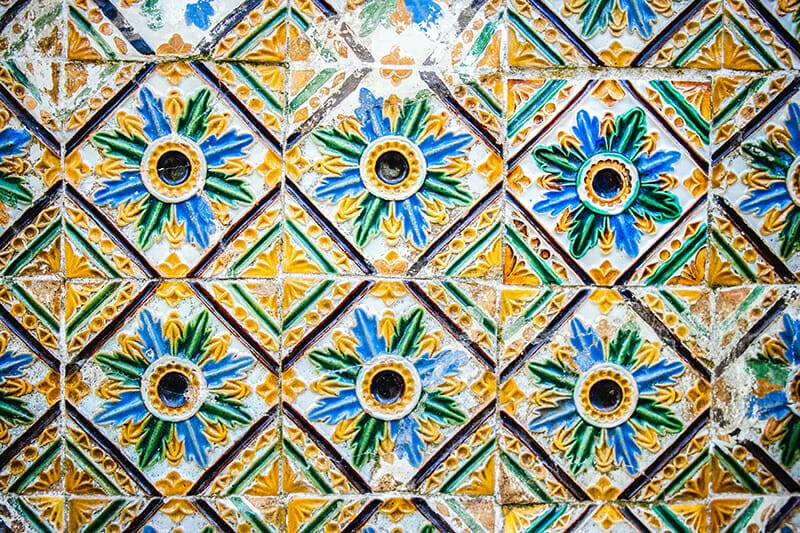 Bold Backsplashes
Designers often urge homeowners to keep things neutral for resale and changing tastes. But it's hard to resist the character and siren call of bold and colorful tilework. I submit that colorful tiles (especially Moroccan-style tiles, a style that dates back to the 10th century), are as timeless as it gets.
Furniture in the Kitchen
Bookshelves and small pieces of furniture atop kitchen cabinets are trends on the rise. It's a nod to a less traditional kitchen, one that's been styled and accumulated over time.
Colorful Cabinetry
White kitchen cabinetry is without a doubt the long-reigning Prom Queen of kitchen decor. But not since the pink and turquoise craze of the 1950s have we seen such a swing back to colorful cabinetry. Whether a neutral green like this, or a bright yellow with milk glass fixtures, painted cabinetry is becoming a more common, and bold, choice.
Goodbye Upper Shelves
Many homeowners are choosing to bid adieu to upper cabinetry, leaving the walls painted or tiled. This is a more simplified kitchen look, with more opportunities for larger windows and ample natural light.
Black Appliances
Black appliances are making a comeback. Take a walk through the appliance aisles of Lowe's or Home Depot and notice the newer matte black and dark gray appliances (sometimes with long brass handles). And I have to admit, after buying my current house and inheriting a kitchen full of black appliances, I've changed my tune. Like a little black dress, black is a hue that stands the test of time. 
Open Shelving
I'm not sure that open shelving ever went out of style, but it seems more prolific lately. It's a controversial choice if you're fastidious about keeping things clean (this style of kitchen decor requires periodic scrubbing). Open shelves are the perfect way to bring objects you love out of closed cabinets and into the open where they can be enjoyed every day.
Textures Make a Comeback
After a decade of white cabinets, white countertops, and white everything, we're seeing a resurgence of more textured kitchens. Stone backsplashes, butcher block countertops, and brick floor options are more and more common, and it reminds me of the warmth of 1980s kitchens, without the overdose of baskets and roosters.
Tiles to the Ceiling
This recent trend reminds me of the kitchen at The Breakers, which makes it my favorite. It's a throwback to historic homes and will definitely stand the test of time when it comes to kitchens in the past, present, and future.
When it comes to trends, moderation is key. All-the-new-things aren't always all-the-right-things. We can find ample inspiration from timeless kitchens like The Breakers, but we're also allowed to like turquoise backsplash tiles or brightly painted cabinetry. A trend, which is usually just the old becoming new again, is an exciting part of homeownership.