Find More Blog Posts
Home Improvement
Homeownership
Humans have been paying attention to what's under their feet since the dawn of time. Native Americans used sand and sunflower seed shells to keep their floors dust-free and sanitary. Europeans used to drop mint all over their floors to help with the smell (let's face it, medieval living wasn't the most pleasant to the olfactory senses). Whether it was painting mud floors with flowers, or creating pebble mosaics, people have always had an affinity for their interiors and the floors they stood on. 
Choosing the right flooring material is always important, but perhaps never more so than in the kitchen. Let's dive into the history of some of the most popular kitchen flooring materials on the market today.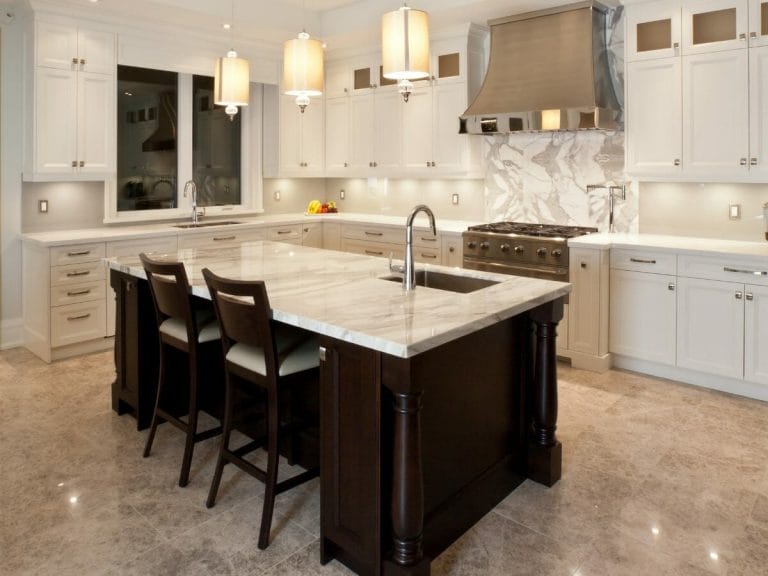 Tile
The history of tiles, specifically tile flooring, goes back to the Cradle of Civilization. Egyptians decorated their homes with tiles in the 4th millennium. Islam has long been the primary influence in tilework, using this technique to decorate mosques. The Moors took their love of tiles with them as they conquered and ruled parts of Europe, an influence still seen today in flooring and buildings.
Our modern affinity for kitchen tilework is very linked to the Victorians. This period of time heavily focused on tiles in the home, specifically the Arts and Crafts Movement. Mass production allowed middle-class families to purchase tiles for their own homes. Public areas became heavily tiled (think public restrooms and the historical subway tiles we still see today).
Modern tile floors are affordable, durable, and easily stand up to the wear and tear of traffic, water spills, and food splatters. As far as style goes, the world is your oyster. This type of flooring is available in many types of colors and patterns. The cons are durability (everything has a limit) and grout issues.
Wood
Wooden floors date back to the Middle Ages. They weren't fancy back then, just unfinished boards laid over a dirt floor. As with all things, and especially necessities, we humans got fancy with wood floors during the Baroque Era. Around 1620, French "parquetry" appeared. The word parquet means "small compartment" in French, and these wooden floors consisted of small pieces arranged and designed into geometric patterned floors. 
Meanwhile, back in the land that would become the United States, colonists discovered the forests of North America and installed wooden floors inside their homes. While not the artistic floors of the wealthy French parquet back in Europe, colonial floors were level and eventually polished. Hardwood was the gold standard until the 1920's when linoleum hit the housing market, and especially after the post-WWII housing boom introduced inexpensive carpeting to the world. This is why we often find beautiful old hardwood covered in linoleum or carpet.
Hardwood floors are beautiful, traditional, and as long as kept properly sealed, can withstand moisture. However, not caring properly for hardwood results in scratches and foot traffic scuffs that can ruin the seal, allowing for moisture and wear to degrade the wood. The key to making sure that doesn't happen? Use quality hardwood and meticulously seal it with a coat of polyurethane. 
Linoleum
After that last section on hardwood, and all the mental images that linoleum over hardwood can conjure, this seems like it might be the "bad guy" of flooring choices. But far from it. If you're building a new home, this is a low-cost, creative and attractive choice for your kitchen. If you're living in an older home with bad flooring or unsalvageable wood floors, this is still a good (and fiscally responsible) choice.
Surprisingly, linoleum was never invented for homes at all. Frederick Walton invented it in 1860 to use on ships as a thick deck covering. The earliest versions of linoleum were made using linseed oil (hence its name), cork dust, resins, and canvas backing. This quickly became the go-to kitchen flooring choice during the 1920s and '30s. 
These days, linoleum is back. The pros are numerous, ranging from an incredibly affordable price point to the "skies the limit" options for pattern, color and texture. Today's linoleum is made with renewable materials, it's as durable as flooring comes, and needs very little maintenance. The cons are few. Don't walk on these floors with your spiky high heels, they'll leave dents. And make sure the factory seal protective coating is quality, or else linoleum will acquire a yellow tint as it ages.
Brick
Brick floors in a kitchen conjure up images of historic houses and cobblestone streets. A long-standing kitchen floor favorite in historic homes, it also experienced a revival in the 1970s and '80s. However, the history of reinforced brick flooring has a less than cheerful origin story. These floors were developed in the 1870s to replace wooden structures after the Chicago Fire (a blaze that lasted for three days, killed 300 people, and destroyed thousands of buildings).  
The pros of brick flooring are numerous. Bricks are a great insulator, and often warmer to bare feet than other stone options. This type of floor is also incredibly durable, is slip-resistant, and requires very little maintenance. The cons are hardness (if you fall down on a brick floor it's not going to be a soft landing), and the costliness to replace if you decide to change your flooring years down the road.
Stone 
Five thousand years ago, Egyptians started building with stones, and humankind hasn't stopped since. The Pyramids at Giza have some of the oldest existing stone floors on earth. The Ponte dei Quattro Capi (the oldest Roman bridge in Rome, built in 62 BC) still overlooks the Tiber River. The Romans didn't just stop at roads and bridges, they created the first heated flooring using natural stone.
Thanks to Mother Earth, we have a myriad of stone choices for flooring: slate, granite, marble, and quartz. The positive reasons to choose stone for your kitchen floor are obvious. Stone is beautiful, timeless, and easy to clean. The downsides, however, are important to know. You need to seal them well (they can be overly porous to water), they're not cheap, and if you happen to have a toddler like mine with a penchant for throwing his toy cars down onto the floor as forcefully as possible, they can crack.
Deciding on the right flooring can be difficult. Sometimes your favorite "look" doesn't always correspond with the durability you need. Sometimes frugality overrules more expensive options. But whatever flooring you choose for your kitchen, it's always fun to know the history behind the floors underneath our feet.