Find More Blog Posts
Homeownership
There's something about the holiday season that makes us nostalgic. As the year comes to a close, we look to mark milestones of the past year. Whether you've moved into a new home and want to commemorate the occasion this Christmas, or you're looking for a gift for someone who recently bought, the holidays are a great time to celebrate a new place. But what can you give new homeowners for Christmas? When we moved into our new home just over five years ago, we were given some wonderful gifts to celebrate the occasion during the Christmas season.
A Christmas Ornament
One of my favorite pieces on our tree is our "New Home" ornament. It beautifully marks the year when we moved into our home and serves as a fun reminder each year when we decorate the tree. You can find ornaments celebrating a family's first year in a house at gift stores or online. One of my favorite places to look for special customized ornaments is on Etsy.com, where independent makers create unique gifts.
A Tool Kit
For a gift that will come in handy year-round, you can assemble a tool kit for the new homeowner. Anything from a simple set of screwdrivers or a hammer and level, to a more extravagant set of power tools, would be great. With a new home, there are plenty of opportunities to use this gift. A family member gave us a set of wrenches, and they sure come in handy when we have to fix things around the house!
Christmas Decorations
A fun way to mark the holiday season is by gifting a new Christmas wreath for the front door or decorations for the mantle. With it being the first holiday in their new place, they may need something festive to adorn their home. Our first Christmas here, we were given a fun sign for our door with snowmen and our name. I love putting it up each year!
Custom Stationery
A new address means new stationery. From note cards to an address stamp, the options are endless! A friend gave us beautiful note cards with our new address printed on the back, and another sent us a self-inking stamp with our new address (which was GREAT for addressing all those Christmas cards). Paper stores, either locally or online, will have a plethora of options to fit any taste.
Mailbox or Front Door Decals
A fun new trend is to apply custom vinyl decals to your mailbox or front door. We actually have both! We have our address and name on our mailbox and the house number on our front door. They are fun ways to "feather your nest," so to speak. If you have a friend or local business who can create vinyl decals, you can get one customized for your friends or family. If there are no local options, check on Etsy for shops that make these types of gifts.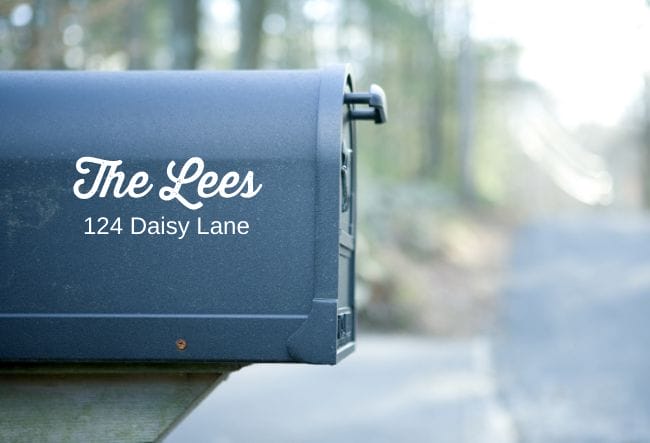 Have you received any unique gifts to commemorate a new home? We'd love to learn about your favorites in the comments!