Find More Blog Posts
Home Improvement
Remodeling
Buying a new home can be both thrilling and overwhelming – so many creative and practical decisions to make, and so little time and often too little cash flow with which to make them happen. At times – it can seem as if making one wrong decision such as choosing the wrong paint color, will be like pulling a thread on a sweater – the whole plan will just unravel.
Which is why I am grateful for the online tools that are now available to help make some of these decisions a little bit easier and cost effective.
Our home is a lovely midcentury a 'la farmhouse fixer-upper, and while we have been hard at work on the inside since the day we signed the papers, I would love to tackle the exterior sooner rather than later. But with so many projects going on a once, a major exterior upgrade has been put on the backburner. However, what our budget will allow for is a front porch cosmetic make-over… If only I could choose paint colors!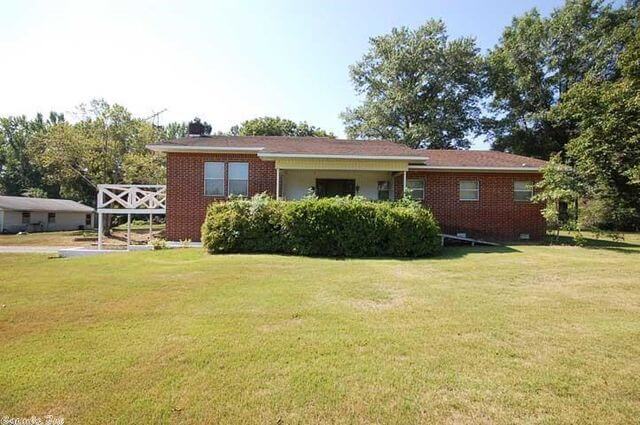 This is what our house looked like when we bought it. My favorite thing about our exterior is the deck off to the side. The second best feature is the front porch which has siding on the walls, ceiling and on the overhang trim. Of course, you can't really see the porch because of the overgrown bushes, but in time those are coming out soon, and in a few years we will build wide steps leading down to the front lawn.
If you are surprised that this is what the exterior of my house looks like, you are not alone. I am too.
This style of home is not the kind I would have picked out of a magazine. It is no secret that I am more of a traditional farmhouse and cottage kind of gal, but we fell in love with this funny midcentury house and its adorable Fisher-Price-esque style.
But despite all my love for the deck and the front porch siding, the exterior needs some spunk. So I went in search of inspiration. I opened Pinterest and did a quick search for "red brick painted siding"
The first image that really grabbed my attention was one from Young House Love. I love the contrast of the gray and the brick and the happy yellow along with all the white trim. This was the second image I found (from I Should Be Mopping the Floor) that I saved. Not so much for the color section, but for the difference it made for the space to even have a little color. The all-white in the before pic is lovely for a cottage or traditional farmhouse look, but maybe not the way to go for a Fisher-Price house.
Also, I loved the painted ceiling and the painted concrete floor, two I ideas I have filed away.
After I found my inspiration pictures, I went in search of some online paint sample apps.
Fortunately several websites have sampler options, including Valspar, Benjamin Moore and Sherwin-Williams.
Most of the websites allow you to pick from their stock photos or to upload your own, and I had fun playing around with variety of house styles and colors on several of the sites (like this one from Benjamin Moore,) but in the end I decided to upload my own photo and use The Sherwin-Williams Paint Visualizer to customize it.
(Insert picture: Sherwin-Williams Color)
The first thing I did was change our roof color to green (which it actually is currently, the brown roof was what it was before we purchased the house.)
Next, I added thick white moldings around the windows (which my husband will build a lot better than I drew with my mouse…) and began testing siding and door colors.
First I went with a yellow door and blue siding, because legend has it that yellow doors are the most welcoming.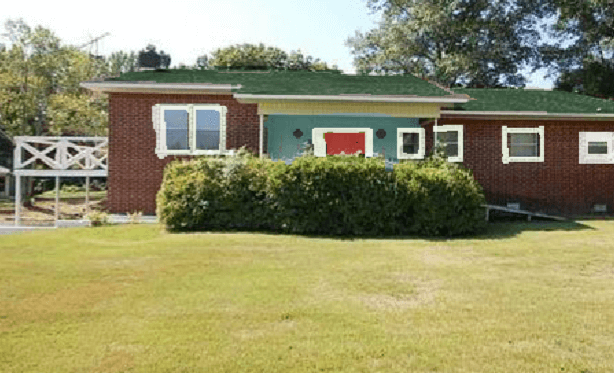 Next I tried a red door. The house we lived in for 11 years before this one had a red door, and everyone knew our home by that door. I am not sure that a red door goes with the red brick, but seeing the siding color next to it, does help.
Here it is with gray siding and a blue door. This color combination is slightly tamer than the first two, and I feel as if the porch just blends into the background. But perhaps tamer is better?
I am currently still on the fence about which combination I will choose, but using the visualizer has helped me narrow down my options tremendously. I think my next step will be to go purchase some sample-size jars of paint in these colors, and see what looks best in person.
But first, I am curious… If this was your house, which option would you choose?