Find More Blog Posts
Homeownership
Safety
As the weather warms (and our surprisingly arctic winter weather becomes a distant memory), it's time to take stock of our homes and do some exterior spring maintenance. Springtime is a season synonymous with spring cleaning, but those needs apply to the outside of our homes as well. A reorganized garage or freshly mopped interior can make us feel amazing, but a kempt exterior will make us feel safe and more prepared to meet new seasons. Here are seven important "musts" when taking care of the homes that take care of us. 
Fall Leaves
If you've postponed raking fall leaves, now is the time to finally tackle them. Old leaf piles can prevent grass from growing, as well as become havens for pesky mice, snakes, and bugs. So while it might have been fun to jump into piles during the fall, it's springtime now and it's time for the leaves to go.
Gutters
Gutters are the buffers that protect our home's roof and walls from moisture. When they become full of leaves, dirt, or bird nests, we end up with water damage and even pest problems (think rodents, shudder). We should be cleaning out gutters twice a year, so a spring assessment is imperative. For those of us in one-story homes, this isn't a hard task, just a time-consuming one. For those with multi-story homes, it's a bit of a balancing act (literally). Hiring someone is always an important option if you're not comfortable with heights.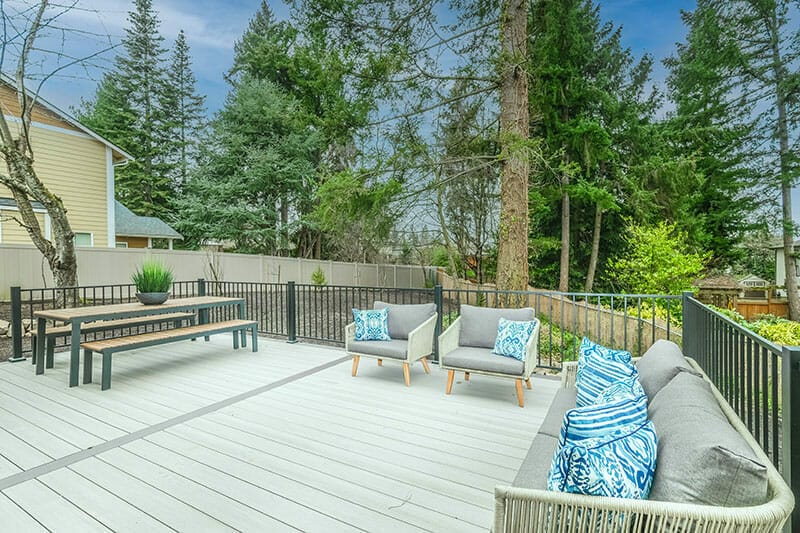 Deck Maintenance
As decks age, they can warp, splinter and crack. Worrying about splinters in your feet during a cookout isn't anyone's idea of a good time. Spring is the best time to take care of your deck and extend its lifetime. Replace broken nails and aging boards, and if needed, apply a new coat of sealant.
A/C Service
It could be argued that our air conditioners are our hardest working family members during the summer months. They keep us cool and sane, so they deserve the best treatment. Spring is the season to hire a professional to come out and service your HVAC system and ensure peak performance during the sweltering summer.
Check for Freeze Damage
This is the time to lend an inspecting eye to your chimney, foundation, sprinkler system and outside faucets. Are there any new mysterious cracks? Do the faucets drip or leak water? Freezing temperatures can wreak havoc on our exteriors, so don't be afraid to give those outside elements a good assessment.
Termites
Spring is "swarm" season for termites, as they gleefully wake themselves from a winter hiatus and go in search of wood to destroy. They are silent little destructors, causing millions in property damage every year. The bottom line; get (and keep)a termite contract with a reputable pest control company.
Windows and Doors
There's really no season where door and window caulk shouldn't be monitored or repaired, but for southerners, there's arguably no more important (or costly) season than summertime. Our AC's began humming far earlier than we'd prefer, so springtime is the best time to assess caulk situations and air leaks. Remember to remove all the old dry caulk before any new applications. This also an excellent time to check for torn or broken screens as well.
While repainting our kitchen or purchasing a new patio set are far more exciting ways to spend money, it's imperative to invest the proper time and finances into exterior spring maintenance. After all, summertime is far easier to enjoy when your exterior is in its best shape.