Find More Blog Posts
Architecture
"Jack and Jill" is an iconic nursery rhyme, written and made popular in the mid-17th century in England. The meaning of this famous rhyme is muddled, some claiming it was political symbolism, others insisting that Jack was a real person who died, and others claiming that Jill was originally Gill. But the names Jack and Jill bring to mind another image, one that its original author never would have imagined: the bathroom.
Jack and Jill bathrooms are defined as a bathroom that cannot be accessed by a hallway. They are essentially a bathroom sandwiched between two bedrooms with doors to each. According to some websites, this bathroom layout may have originated in Texas. I can't confirm this with any actual data, but it makes sense to me because the only two Jack and Jill bathrooms I have any actual experience with were in my grandparents' houses in Texas.
My father's parents lived in a mint-green house in the middle of West Texas. It was a small cozy house, and the only bathroom was a Jack and Jill bathroom. The bathroom had a bathtub, no shower, and a gas wall heater that threatened to singe your leg every time you passed it. But it was simple and cozy, with two doors on either side of the room leading to the only two bedrooms in the house. I remember walking through their bedroom to get to the bathroom, which was the perfect excuse to admire my grandmother's mirror tray with perfume bottles on it.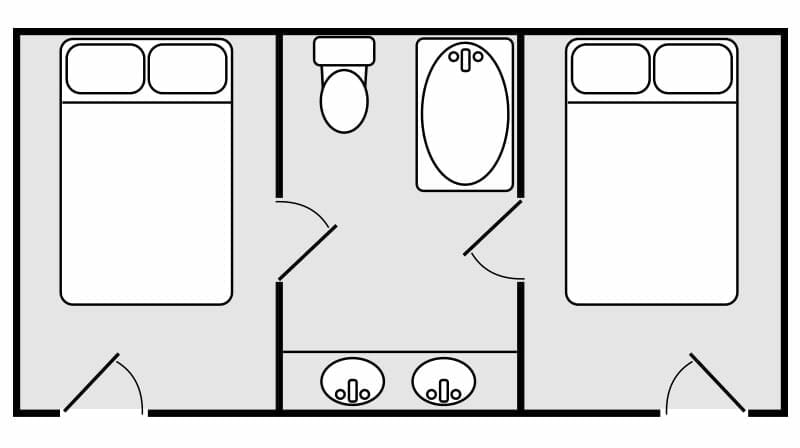 My mother's parents lived in Dallas, and the Jack and Jill bathroom in their home is still my favorite bathroom of all time. It wowed me with its vivid pink floor tiles, pink wall tiles, pink countertop, and pink cabbage rose wallpaper. It was a true "Mamie Pink" bathroom and had two doors on either side, each leading to two separate bedrooms. My grandmother kept a glass jar of shells on the countertop and the room always smelled like a bar of Dove soap. It was also the pink sanctuary where I used to hide from my little sisters, but I digress.
During a time period when the Baby Boom generation were children, new modest post-WWII homes needed to make the most of their square footage. Families during this time were expanding quickly and the concept of the Jack and Jill bathroom became increasingly popular. This layout was an easy way for multiple children to share the same bathroom. It also allowed for one large shared bathroom instead of two or three tiny single bathrooms.
Some realtors insist there's a downside to these bathrooms, that they tend to "age out" along with the children in the household. Once the kids are gone, realtors say that these bathrooms are considered "landlocked." But Bethany Finch, an interior designer and house remodeler, has a different opinion.
"When I was a kid, I thought Jack and Jill bathrooms were the coolest thing, like a little secret room of sorts. Now that I'm an adult I still love them. With kids, they give you an opportunity to go crazy in its design without having it smack dab in the middle of the house. If you prefer a more subdued style, you can incorporate aspects from the connecting rooms and really make it a beautiful space. As far as usefulness goes, they function just fine. But in all seriousness, a Jack and Jill bath isn't going anywhere soon. They will be a staple for many years."
If you're building an addition or remodeling your home, the Jack and Jill bathroom might be just what you're looking for. Enjoy the chance to decorate however you want, while simultaneously creating a practical bathroom space for multiple people. Just like the legendary nursery rhyme that has never gone out of style, Jack and Jill bathrooms are here to stay.