Find More Blog Posts
Decorating
Home Improvement
When you hear the phrase "Man Cave," it brings to mind basements, garages, or an unused room in the back of the house. We can collectively envision taxidermy, game consoles, personal computers, and maybe a neon beer sign or two. These are generalizations of course; my own father's "man cave" is a basement room filled to the brim with books, WWII memorabilia his own father brought back from the South Pacific, and nearly every sentimental piece of childhood art, coffee cup and random rock my sisters and I ever gave him. 
Of course, anyone can have a "man cave" but the past few decades have rendered the notion almost solely the property of men. But as years went by, women started to wonder, "Where's my cave?" Sure, they may traditionally be the gender who decorates the home, but that doesn't mean they necessarily have a place to retreat. Doing yoga in the center of the house while your kids throw cereal at each other doesn't lend itself to a peaceful experience. 
I suppose this is where the concept of the "she shed" really kicked off. Apparently, high-end shed makers decided women not only wanted a space of their own but also wanted to exit their homes completely. These "she sheds" are backyard buildings but aren't your grandpa's shed full of tools. They are painted, floored, air-conditioned, and kitted out to the nines. These tiny cottages can have windows, lights, comfortable chairs and electric wood stoves. 
But it leaves us asking a question, "When I can't leave home, where do I escape?" Of course, we'd all love to have a designated basement or fancy outdoor shed, but it's not always possible. So where can we run?
Where can we go when we need to retreat? Sure, we may love our kitchens, but our kitchens are high-traffic public spaces. We may adore movie night with popcorn in the family room, but it's also a place where video game battles and loud sleepovers spike the home decibel level. What do we do without a she-shed or a man-cave? All humans need a respite hideaway in their life, and here are four ideas to make that happen. 
Your Bedroom
As adults, our bedrooms are usually the last place we put energy, effort and dollar bills. For so many of us, it's a room with old hand-me-down furniture, piles of laundry, and mismatched sheets and blankets. It's a place we collapse at the end of the day and nothing more. I propose we turn this arrangement on its head. I've created a "no kids allowed" rule in my bedroom. This will sound harsh to some, but it's been a godsend to me. My children have the run of every other room in the house, but I reserve the right to channel my inner bartender and tell them, "You don't have to go home, but you can't stay here." I splurged on new curtains, an electric fireplace and bookshelves. It's the place where I hide candy, watch tv and read my books. No kid crafts or gymnastics allowed. Best yet, I don't have to trek across a dark backyard to visit a shed.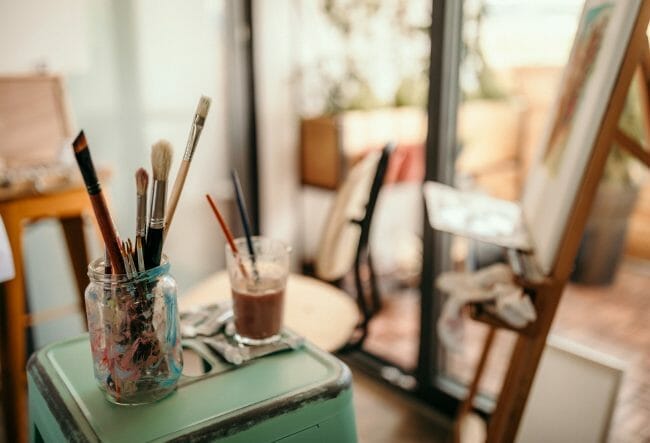 The Formal Dining Room
Throughout this pandemic, people commandeered their formal dining room for other uses. A friend of mine decided to throw herself into creating an art studio for herself. The unused dining table became a central space for her to paint, draw and better yet, not clean up after she was done. The upside over a basement she/he-cave? Natural light and close proximity to the coffee maker.
Spare Bedroom
Do you really need a spare bedroom? Can you shove the bed to one side, or spring for a twin/trundle bed to create more floor space? This is the place for yoga or shelves for your vintage Star Wars figurines. Your guests only stay a few times a year, you live in your house every day.
Your Closet
Okay, but hear me out. Some closets are literally small rooms begging for more than just clothes and shoes. Get it organized. Buy fancy shoe boxes. Find a makeup table. Put a chair in it with a reading lamp. Buy a small writing desk, hang a mirror to bounce light around, and write your book ideas in peace where you can't hear the other people in your house playing Fortnite.
The Garage
While walking through my neighborhood one day, I passed by a house where the garage door was open. This was no regular garage. It had a very large flat-screen TV on the back wall, two recliners and rows of bookshelves. A couple sat in the recliners, holding hands, watching whatever show they were binging. I had to chuckle at the pile of kids' bicycles by the front door, clearly not allowed in the parent cave. I was immediately reminded of Doug Hefernan's garage in "King of Queens." But instead of a beer fridge, there was a wine fridge. Instead of a dart board, there was a shelf with board games. It wasn't a She Shed, nor was it a Man Cave. It was a sort of Couples Burrow, a place of solitude and solidarity from the kids. 
We all need a personal fortress of solitude. Whether it's a cave, basement, garage, shed, or small corner in an unused room, we all need a place to sit and be, play games and relax, display our treasured objects, read and hide our snacks.